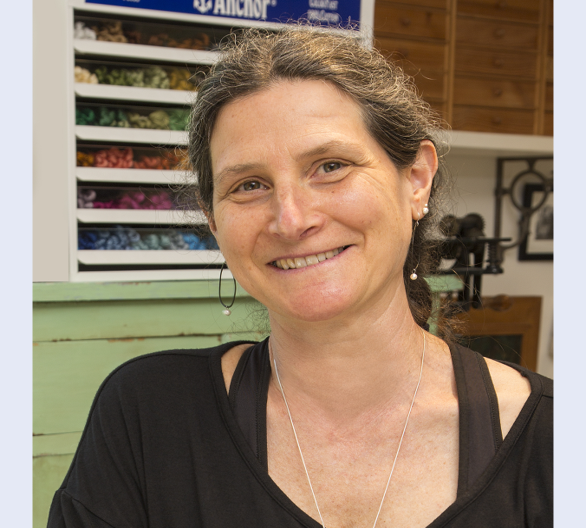 Before sending in the registration form, please email Jenny Ross, Workshop Registrar, to make sure there are still openings in the workshop you want. Waiting lists are created when a class is full.
Workshop Registration form (pdf file)
Fee: $210
May 5-7
Liz Alpert Fay
http://www.lizalpertfay.com
Liz Alpert Fay earned a degree in Textile Design from the Program in Artisanry at Boston University in 1981. After graduating, she spent seventeen years creating art quilts, exhibiting nationally and in Japan. The artist exhibited in such shows as Quilt National and at the American Craft Museum in New York. Liz's quilts can be found in both private and corporate collections, as well as in many publications including The Art of Quilt by Robert Shaw.
In 1998 Liz became intrigued with the technique of traditional rug hooking, and since then has been actively pushing the medium in new directions. Besides creating colorful hand hooked rugs with cut outs and irregular edges, the artist also creates large-scale contemporary hooked art works and installations. These works continue to be purchased for private collections, and many have been selected for juried shows and invitational museum exhibitions
From 2001-2014, Liz was Co-Chair and Artist Director of Newton Hooked Art Shows where she actively promoted innovation in the hooked art of contemporary artists and produced annual juried shows.
Early in her career she earned the title of Master Teaching Artist through the State of Connecticut, and for many years has been giving classes in the textile arts. At this time, she is teaching workshops in the textile arts and planning future exhibitions of her own work, consisting of hooked art pieces and mixed media sculpture.
Her work can be found in numerous collections including, the White House, Washington DC; The Museum of Arts and Design, New York and private collections in the US, New Zealand and Canada.
Lecture, May 5: Art and Inspiration
This presentation takes you along on Liz's artistic journey from inspiration to completed artwork. Her large-scale works are a contemporary approach to one of our country's oldest textile techniques – traditional rug hooking. Examples of both commissioned work and personal projects will be shown
2 1/2 day Workshop, May 5-7: Rug Hooking: Painting with Wool
Come try your hand at painting with wool: Using fabric strips created from beautiful hand dyed and colorful wools, students will design and create a small artwork that takes them through all the steps used in created a full sized rug. The group will explore the use of different textures, patterns, and types of hooking materials. She will discuss the history of rug hooking and examples of both contemporary and antique rugs will be shown. Sources for materials and the variety of equipment available will also be discussed.