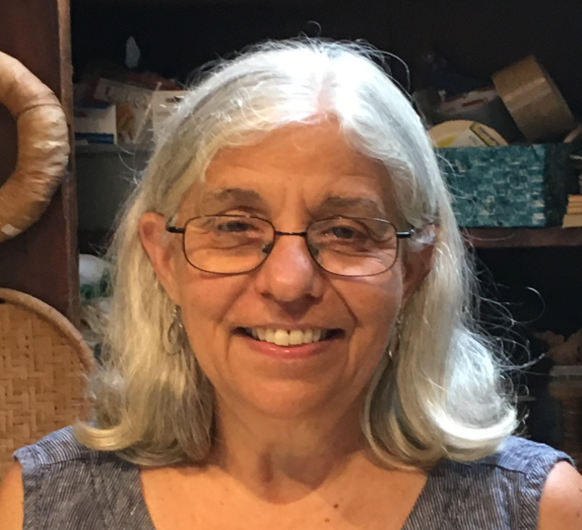 Before sending in the registration form, please email Jenny Ross, Workshop Registrar, to make sure there are still openings in the workshop you want. Waiting lists are created when a class is full.
Workshop Registration Form (pdf file)
Jackie has been a basketmaker since 1975, when she first apprenticed to an 81 year old traditional white ash basketmaker. Since 1990, she has been exploring the possibilities of contemporary basketry. She exhibits her work at galleries and museums, and has been included in numerous books. Her work is in many collections, most notably the Renwick Gallery of the Smithsonian Institution and the National Museums Scotland. Her community development work in Africa has inspired her work and her life.
Lecture, April 14: Baskets, Travels, Experiences
This is a humorous and thoughtful look at the influences in both Jackie's art and life. It reflects over 40 years of growth, inspiration, and interdependence. It is a visual journey, including images from her travels in the United States, Australia, and Africa, and the colors, textures, and people who had an impact on her work.
2 1/2 day workshop, April 14-16: Bias for All
Paint and create your own basket materials using acrylic paint on heavy cotton paper, a very user-friendly material. Learn about surface design techniques and tools, while applying colors and creating textures.
Then investigate the possibilities of bias plaiting, a wonderfully versatile technique. Weave baskets that are symmetrical or sculptural, with graceful curves or angular shoulders, with corners, feet, double walls, or covers. Learn about the rules that can certainly be broken, and how to apply this technique to other flat materials.
Both beginning and more advanced basket makers are welcome to explore the possibilities. Experimentation and laughter are all encouraged. There will be enough materials for weaving in both the class and at home.